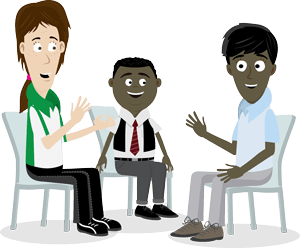 Problem Formulation
Problem formation is a vital stage of the Occupational Therapy process. This stage enables you to work together with the therapist in expressing your main concerns of both the day to day function at school and at home, any concerns you may have for the future and how this will affect the development of your child.
An example could be that you have noticed how poor your child's handwriting is and that they have started to complain about pain in their hands when they write for long periods. You may also have noticed how this is affecting their ability to get dressed in the morning and is making you late for school. Our occupational therapists will be able to extract the underlying message from these problems and work with you in planning a way forward to not only improve the skills of your child but in ultimately making life easier for the both of you.
1. Referral
2. Information Gathering
3. Assessment
4. Problem Formulation
5. Goal Setting
6. Therapy Intervention Planning
7. Treatment
8. Regular Reviews
9. Outcome measurement
10. Final Review
11. Discharge
↑ Back to Top

Next steps:
Please contact one of our experienced occupational therapists today and we will gladly discuss how we can help and what services we can offer you.
0330 223 0888
3-5 St John Street, Manchester, M3 4DN [map]