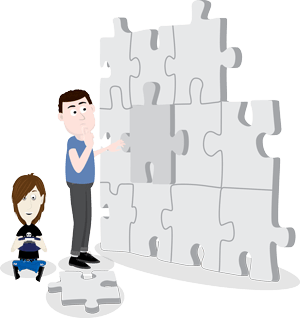 Case Managers
OT for Kids work with Case managers in providing the best care possible to children, the occupational therapist can arrange to meet yourself to discuss any concerns you may have over a particular case. This could include a home or school visit for safety and access to services, or treatment needed following an accident or injury. We offer the following services
One on One treatment
The occupational therapist would be able to provide one on one treatment in school, at home or at one of our clinics.
Groups
At OT for Kids, we can provide group services to children with similar difficulties, ages and abilities. The groups we currently offer are:
Access Audits
We would also be able to come out to the childís school or other facility they regularly use and determine if it is safe and accessible to all children. This is in line with the Disability Discrimination Act 1995.
Assessments
OT for Kids can assess for a range of difficulties, the occupational therapist would use this process to better understand how the difficulties are impacting upon function, and what treatment we can offer following this.
The assessments we provide are:
Treatment
We offer a wide variety of treatment, varying from handwriting and movement to aids and adaptations of the home. We would be able to offer treatments in school, at home or in clinic. The treatments we provide are:
Conditions:
Problems:
office@otforkids.co.uk
or call us on
0330 233 0888
↑ Back to Top

Next steps:
Please contact one of our experienced occupational therapists today and we will gladly discuss how we can help and what services we can offer you.
0330 223 0888
3-5 St John Street, Manchester, M3 4DN [map]