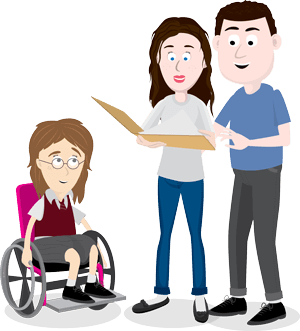 Equipment Report
An Equipment report would offer an overview of the Equipment assessment completed by the Occupational therapist. You may wish to use the Equipment report as a second opinion, or to provide more information for teachers, or just for your own reference. The purpose of the Equipment report is decided by you, it will be written by each therapist following an assessment, and is therefore a personalised reflection based on how the condition is affecting your child and what aid, adaptation or modification will help your child live a more independent lifestyle. Inside the Equipment report would contain information regarding the following:
How the condition is impacting upon the daily level of independent function for your child
This report would contain suggestions of the most appropriate adaptive equipment your child may need to overcome any difficulties highlighted from the assessment. Common difficulties experienced at home are getting dressed and using cutlery properly, some of the possible adaptive equipment the occupational therapist may advise to improve these aspects are a sock grabber (for dressing) and the use of adaptive cutlery which is shaped especially to aid in cutting food.
Educational recommendations within school
Within this report, you would also find any equipment the occupational therapist feels will benefit your child during school time. For example if your child is struggling to write correctly, the therapist could recommend a writing slope to promote posture and improve handwriting.
Other adaptive equipment could be:
Posture Chair
Transfer boards
Weighted Jackets (for sensory feedback)
Adaptive scissors
Computer aids
Bathing seat
Pencil grip
Adaptive Pens
Fidget toys
Therapeutic putty
The treatment plan aimed to improve the functional performance
Finally the Equipment report would provide a detailed description of the therapy action plan, including logistics, the theory and its application both at home and school environment. The therapist would use their extensive knowledge and skills to summarise the impact the problems your child is experiencing on daily occupations.
Each of our highly experienced therapists can to tailor the report to your needs, offering you the special personalised treatment to make your life easier.
If you are interested in obtaining an Equipment report, or would like to know more about it, please email
office@otforkids.co.uk
or call us on
0330 223 0888
↑ Back to Top

Next steps:
Please contact one of our experienced occupational therapists today and we will gladly discuss how we can help and what services we can offer you.
0330 223 0888
3-5 St John Street, Manchester, M3 4DN [map]