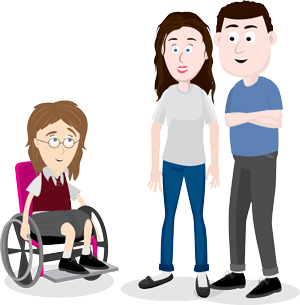 Wheelchair Assessment Report
The wheelchair assessment report is completed by one of our trained occupational therapists following a wheelchair assessment. The Wheelchair assessment report will outline and justify the need for a wheelchair, the type of wheelchair (propelled, self-propelled etc.), the duration the child may require a wheelchair and describe the great impact this will have upon function both at school and in the home.
Wheelchair Specifications
The occupational therapist will use their extensive knowledge and expertise in deciding on the most suitable wheelchair for your child. A self-propelled wheelchair implies that the child's capabilities to move independently and therefore ability to restore previous function are extremely limited, not only this but due to the expensive cost of a self-propelled wheelchair compared to a propelled one, the decision to recommend a self-propelled wheelchair will be greatly considered. The occupational therapist would also most likely have completed a home visit to see how the home is adapted for wheelchair use, and provide any recommendations to ensure the child can access all the facilities at home.
Impact upon the environment
The wheelchair assessment report would also describe the implications of using a wheelchair for a child at school, travelling and in the home will also be discussed. For example, the social implications at school of using a wheelchair could have a negative impact on confidence and image of the self, the therapist would discuss this possibility, and provide effective educational treatment options to manage these inevitable consequences.
Each of our highly experienced therapists can to tailor the report to your needs, offering you the special personalised treatment to make your life easier.
If you are interested in obtaining a wheelchair assessment report, or would like to know more about it, please email
office@otforkids.co.uk
or call us on
0330 223 0888
↑ Back to Top

Next steps:
Please contact one of our experienced occupational therapists today and we will gladly discuss how we can help and what services we can offer you.
0330 223 0888
3-5 St John Street, Manchester, M3 4DN [map]