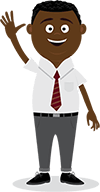 Case Studies
Meet Jimmy
Jimmy is 10 years old, he enjoys playing football and wants to do well at school. Jimmy has dyspraxia, or developmental co-ordination disorder. Dyspraxia is a well known condition, however the association between the condition and how it can affect a child at school is not so well understood. Dyspraxia affects a child's planning, processing, and motor co-ordination, which dramatically impacts upon a child's performance in school.
Jimmy struggles to ride a bike, he is never picked for the school football team, and the teachers at his school are expressing concerns regarding his writing. Jimmy tries very hard to keep up with the class when he is copying from the board, however he just can't keep up. He has to concentrate so hard on making his writing neat and legible, that he often misses the information being taught and the objectives for the lesson.
Jimmy came to our clinic and received an initial assessment and ongoing monthly treatment. Alongside his ongoing treatment, Jimmy and his parents worked through a home programme of activities to improve his skills, and Caroline, his Occupational Therapist, visited his school to improve his environment and increase his learning opportunities.
Over time, Jimmy's writing became legible and he was able to kick a football with good accuracy and he even managed to get his way onto the school football team! Both Jimmy and his parents were extremely pleased with the support, advice and expert help they received from OT for Kids in helping Jimmy achieve his goals.
All of our assessments and treatments are centred around the patient.
We believe that together we achieve more.
↑ Back to Top

Next steps:
Please contact one of our experienced occupational therapists today and we will gladly discuss how we can help and what services we can offer you.
0330 223 0888
3-5 St John Street, Manchester, M3 4DN [map]