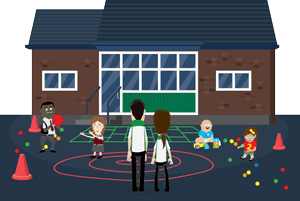 Schools
OT for Kids work alongside schools in providing the best environment for children to learn, grow and develop. We work with a number of schools currently, including supporting children on a one to one basis and working in small groups with the Special Educational Needs Officer (SENCO). These groups have been specifically designed for children who struggle with handwriting, concentrating in class, P.E or sport lessons (movement) and difficulty dressing or using scissors (fine motor skills). These are the services we provide:
Why choose us?
OT for Kids regularly work with schools in providing a wide variety of services. We understand what is required and are extremely flexible in working together. See more of the benefits below:
One on One treatment
The occupational therapist would be able to provide one on one treatment and support in school, working with teachers and teaching assistants in providing therapy that matches the curriculum.
Discuss a particular case
The occupational therapist can also arrange to meet yourself, either in school, or at one of our clinics to discuss any concerns you may have over a particular case. This could be something you have observed and are not sure how to address.
Groups
At OT for Kids, we can provide group services to children with similar difficulties, ages and abilities. We are able to offer a day of groups, whereby the occupational therapist will come into school to run up to 4 of the following groups:
Teacher Training
We are also able to offer training sessions for teaching staff. The topics that would be covered is down to the specific school and level of teaching staff. We would be able to come into school to provide this service, this could be education around a particular condition, or how to improve the learning ability of certain children, or any other issue you feel needs addressing.
Access Audits
We would also be able to come out to the school and determine if it is safe and accessible to all children, if you are in the process of re-designing the school, having an extension or completing any building work that will change the access to the building we would advise an occupational therapist complete an access audit, this is in line with the Disability Discrimination Act 1995.
Assessments
OT for Kids can assess for a range of difficulties, the occupational therapist would use this process to gain a better insight into the difficulties the child is experiencing, determine why this might be and use the assessment as the basis for the therapy treatment sessions.
The assessments we provide are:
Treatment
We offer a variety of treatment and the difficulties identified in assessment will depend upon the combination of treatment the therapist would choose. The treatments we provide are:
Conditions:
Problems:
office@otforkids.co.uk
or call us on
0330 233 0888
↑ Back to Top

Next steps:
Please contact one of our experienced occupational therapists today and we will gladly discuss how we can help and what services we can offer you.
0330 223 0888
3-5 St John Street, Manchester, M3 4DN [map]